BlueBird Extends Ni-Cu-Co Mineralization Over a 5 km Strike Length with New Discovery at its Canegrass Project in Western Australia
Vancouver, British Columbia, October 15, 2018 – BlueBird Battery Metals Inc. (TSXV: BATT; US:BBBMF) (the "Company" or "BlueBird") is pleased to announce that the first hole of the Phase One exploration program at the Company's Canegrass Project in Western Australia has extended Ni-Cu-Co mineralization over 2,000 metres to the northeast, defining a trend measuring over 5,000 metres in strike length. This discovery is the highest grade result to date from the Canegrass Project.
Discovery Hole BBRC001 intersected:
12.0 m (1) averaging 1.17% Ni, 0.93% Cu, 0.05% Co, 0.76% V2O5, 0.40 g/t Pt and 0.51 g/t Pd
Including
6.0 m (1) averaging 1.40% Ni, 0.96% Cu, 0.06% Co, 0.94% V2O5, 0.48 g/t Pt and 0.60 g/t Pd.
The mineralized zone, intersected from 66.0 m to 78.0 m, consisted of magnetite-rich gabbro-norite host with 20-40% pyrrhotite, disseminated chalcopyrite, chromite and pentlandite.
The results reported above are measured downhole and are not true width. There is insufficient information at this time to determine the true width of the mineralized zone.
Gary Nassif, President of Bluebird, comments: "We are very pleased with the results of our initial drill hole at our flagship Canegrass Project in Western Australia. Not only did it return the highest tenor Ni-Cu-Co mineralization to date but it also increased the strike extent of Ni-Cu-Co mineralization by over 2,000 metres, confirming our belief that the Canegrass Property, and the Windimurra Intrusive Complex, offers significant potential for the discovery of magmatic nickel-copper sulphide mineralization. We have completed the initial drill program and are currently focused on getting the remaining holes analyzed as quickly as possible. Our Phase One program included both ground-based geophysics over select VTEM targets as well as down-hole electro-magnetic surveys of historical drill holes and the completed Phase One drill holes. Our exploration team plans to evaluate the results of the geophysics in conjunction with the results of the initial drilling to isolate follow-up drill targets."
The Phase One drill program consisted of 10 drillholes and 1,856.3 metres targeting a series of airborne VTEM anomalies identified along the 5.0 km trend. (Ref Table 1)
Table 1 Phase One Drill Program Drill Locations
| | | | | | | | |
| --- | --- | --- | --- | --- | --- | --- | --- |
| HoleID | Easting | Northing | Elev (m) | Dip° | Azimuth° | Depth (m) | Target |
| BBRC001 | 649465 | 6847630 | 482.72 | -70 | 90 | 102 | VTEM-08 |
| BBRC002 | 649390 | 6847630 | 482 | -60 | 90 | 121 | V2O5 |
| BBRC003 | 649310 | 6847630 | 480 | -60 | 90 | 85 | V2O5 |
| BBRC004 | 649230 | 6847630 | 482 | -60 | 90 | 84 | V2O5 |
| BBRC005 | 649150 | 6847630 | 485 | -60 | 90 | 85 | V2O5 |
| BBDD001 | 649245 | 6847850 | 483.37 | -70 | 90 | 178.1 | VTEM-06 |
| BBDD002 | 648455 | 6846355 | 464 | -70 | 90 | 301 | CG039 |
| BBDD003 | 647490 | 6843170 | 467.4 | -60 | 90 | 250.1 | CG02 |
| BBDD004 | 647404 | 6843280 | 465.1 | -60 | 90 | 319 | CG02 |
| BBDD005 | 647340 | 6843350 | 463.75 | -60 | 90 | 331.1 | CG02 |
Assays are pending for holes BBRC002 to BBRC05 and BBDD001 to BBDD005.
The Phase One drill program had two primary objectives: evaluation of priority airborne and ground-based electromagnetic anomalies and the evaluation of near-surface vanadium ("V2O5") mineralization identified by historical operators. A total of ten holes were completed with five reverse circulation holes drilled at airborne anomaly VTEM-08 (Ref. Figures 1 and 2). This fence of drill holes was planned to evaluate both nickel-copper-cobalt ("Ni-Cu-Co") potential interpreted as the cause of the VTEM anomaly as well as an extensive V2O5 rock geochemical anomaly based on whole-rock surface sampling conducted by historical operators (Ref. Figure 2 and 3).
The remaining five holes of the Phase One program were diamond drill holes targeting electro-magnetic anomalies interpreted as being the result of Ni-Cu-Co mineralization and following up on historical drill results reported by Flinders Mines Ltd ("Flinders") in 2014.
BBRC001 targeted an airborne VTEM anomaly identified as VTEM-08, located approximately 2,000 metres northeast of CG039 (Ref. Figure 1) where historical drilling by Flinders (2014) intersected 13.0m averaging 0.91% Ni, 0.58% Cu and 0.08% Co in hole CPRC0004.
Ni-Cu-Co mineralization has now been identified at three VTEM anomalies over a 5,000-metre strike length (Ref. Figure 1).
Figure 1: Canegrass Property – Regional Geology with VTEM ™ Anomalies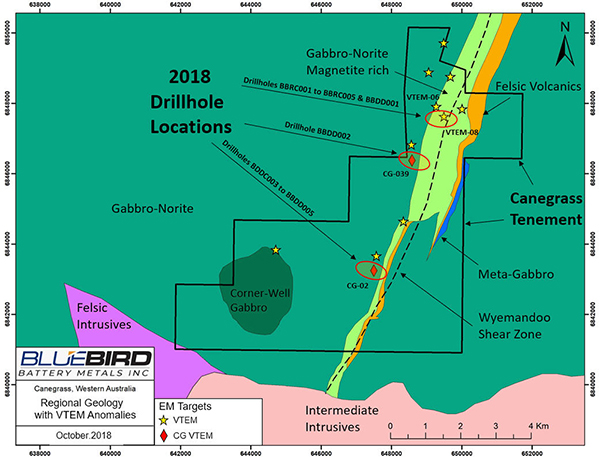 Figure 2: RC Drillhole Section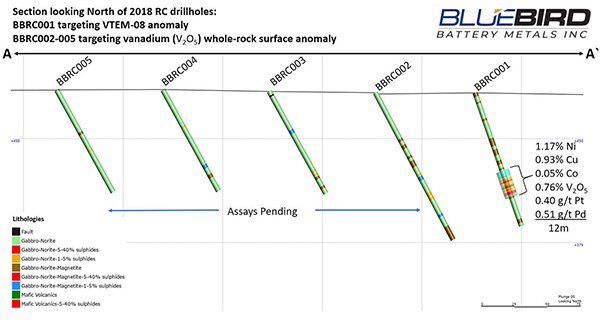 Figure 3: Canegrass Property – High Resolution Airborne Magnetics with Historical V2O5 Surface Rock Chips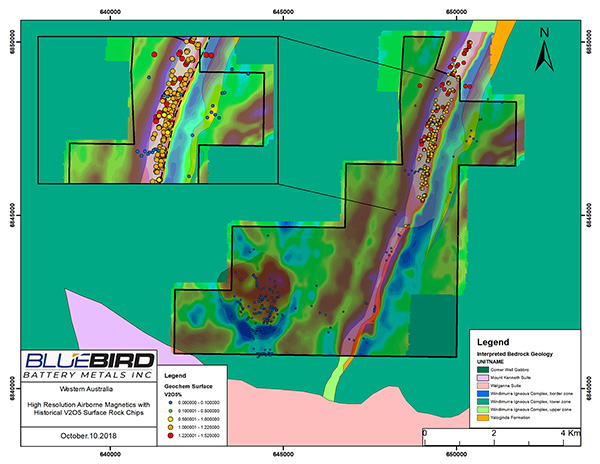 Figure 4: Western Australia – Property Location Map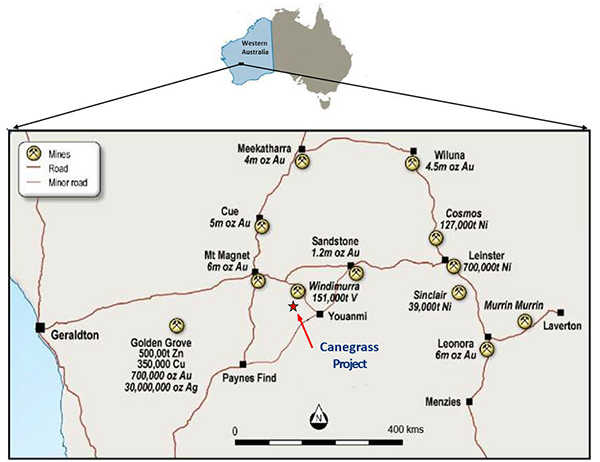 About Canegrass Project:
The Canegrass Project in Western Australia (Ref. Figure 4) covers 4,200 hectares within a highly prospective geological setting, where historical exploration drilling intersected anomalous Ni-Co-Cu mineralization at two locations within the property footprint. Airborne VTEM TM identified 14 geophysical anomalies in 2013. Historical drilling in 2014 at two of the identified targets (CG-02 and CG-039), intersected anomalous Ni-Co-Cu mineralization in 9 of 10 holes. Downhole EM surveys identified off-hole anomalies that have been confirmed by recent surface EM surveys completed earlier this year. The Company's initial drill program targeted off-hole anomalies at CG-02 and CG-039 targets, surface EM anomalies at targets VTEM-08 and VTEM-06 and 4.5 km long zone of historical, surface rock chip samples that returned V2O5 grades in excess of 1.0% (Refer to Figure 1).
On August 7, 2018, the Company reported the results of surface rock chips collected at VTEM-08 during the cultural survey of the planned drill sites, returning anomalous vanadium, titanium and iron values. The results fell within a broad, elongate, V2O5 surface anomaly defined by historical rock chip samples (Refer to Figure 3 for additional information and please refer to press release dated August 7th, 2018).
QA/QC
The Phase One drilling was contracted to DDH1, an independent Australian drilling contractor. DDH1 utilized a Sandvik DR 1200 truck-mounted, multipurpose drill. The multipurpose drill is capable of drilling both reverse circulation and diamond core holes or a combination of both with a reverse circulation pre-collar and a diamond core tail. Reverse circulation drilling completes a 140-mm diameter hole. All core drilling is NQ diameter core.
Supervision of the Phase One drill program was contracted to Newexco Services Pty Ltd. ("Newexco"), an independent consulting mineral exploration company based in Perth, WA. Reverse circulation drilling was sampled on 1.0-metre intervals. Representative chip trays were generated for each 1.0-metre interval. The chip trays were logged for lithology, mineralization and alteration. Samples for analysis were collected on the same 1.0-metre intervals under the supervision of Newexco's lead geologist at site. The samples were placed in sealed sample bags, numbered and labeled and forwarded to Intertek Genalysis ("Intertek") for assay. Intertek is ISO 9001/140001-certified.
Core was transported from the drill station to a core logging facility at site where it is, photographed, logged for geotechnical and geological data and subjected to other physical tests including magnetic susceptibility. Samples are identified, recorded and marked for splitting. Diamond core samples are determined by geological contacts with a minimum sample length of 0.25 m and a maximum sample length of 2.0 m. The marked core is stored on pallets until shipment to Intertek's analytical facility in Perth can be arranged via independent, bonded carrier. Intertek receives the marked-up core and it is split by wet diamond saw. Half the core is sent for analysis with the remaining half stored at Intertek until shipment back to the site can be arranged.
Newexco supervises the insertion of Certified Reference Materials at an insertion rate of one per fifty samples.
The reverse circulation and split core samples transported to Intertek's sample preparation facility in Perth. All assaying is performed at Intertek in Perth. Gold, platinum and palladium are assayed using a 50g fire assay with ICP-MS finish. In addition, all samples are analyzed using a Four-Acid – 48 element analysis and X-ray fluorescence spectroscopy.
The technical content of this news release has been reviewed and approved by Wes Hanson, P.Geo., a director of the Company and a Qualified Person pursuant to National Instrument 43-101.
About BlueBird Battery Metals
BlueBird Battery Metals (TSXV: BATT; US: BBBMF) is a Canadian publicly listed company focused on the exploration and development of strategic battery metals projects, primarily vanadium, cobalt and nickel. BlueBird's goal is to pursue a business model that offers direct and long-term leverage to the price appreciation in nickel and cobalt, two principal materials in EV batteries. The Company plans to become a leader in the battery metals sector, as cobalt is currently in a global supply deficit, has a vulnerable supply chain, and is part of an emerging sector with extraordinary potential. BlueBird is advancing its portfolio of battery metals focused assets in Western Australia and is currently reviewing new acquisition opportunities to add to the Company's project portfolio.
On Behalf of the Board of BlueBird Battery Metals Inc.
Nav Dhaliwal
CEO
For more information, please contact 1-855-584-0160 or [email protected].
This news release may contain or refer to forward-looking information based on current expectations, including, but not limited to the Company exploring the Canegrass Ni-Co-Cu Property and the impact on the Company of these events, including the effect on the share prices. Forward-looking information is subject to significant risks and uncertainties, as actual results may differ materially from forecasted results. Forward-looking information is provided as of the date hereof and we assume no responsibility to update or revise such information to reflect new events or circumstances.
Neither TSX Venture Exchange, the Toronto Stock Exchange nor their Regulation Services Provider (as that term is defined in the policies of the TSX Venture Exchange) accepts responsibility for the adequacy or accuracy of this release.