BlueBird to Commence Drilling at its Canegrass Project in Western Australia
Vancouver, British Columbia, August 15, 2018 – BlueBird Battery Metals Inc. (TSXV: BATT; US:BBBMF) (the "Company" or "BlueBird") is pleased to announce that it has received all permits necessary for its initial drill program at its 100% controlled Canegrass Project in Western Australia. Drilling will focus on testing a number of geophysical anomalies interpreted to be related to near surface nickel, cobalt and copper ("Ni-Co-Cu") mineralization. Drilling is expected to commence on August 20th and be completed by the end of September. Results are expected by the end of October.
Canegrass Exploration Program Highlights:
This initial drill program consists of a planned 2000 meters of drilling, which is predominantly focused on potential Ni-Co-Cu targets identified by airborne and ground based geophysics. At the same time, the Company plans to complete additional ground based electro-magnetic ("EM") surveys over additional airborne targets identified by the recently updated airborne magnetic survey of the property. Follow up drilling may be warranted depending on results of the initial drill campaign and the ground based EM surveys.
"We are excited to commence drilling at the Canegrass Project, where historical exploration and drilling identified multiple near surface Ni-Co-Cu targets. Our initial program is focused on step out drilling at CG-02 and CG-039 testing the identified off-hole geophysical anomalies that we believe represent possible extensions to the historical Ni-Co-Cu results returned in 2014. We are also eager to drill the VTEM-06 and VTEM-08 anomalies where surface EM surveys have indicated anomalies with a similar geophysical signature to CG-02 and CG-039," commented Alf Stewart, President of BlueBird. "The proposed drilling will also allow us to evaluate the subsurface extent of the vanadium, titanium and iron mineralization identified at the planned drill site." Historical drilling at Canegrass returned anomalous Ni-Co-Cu values from two geophysical anomalies within the property footprint. Recent ground based surveys have identified strong electro-magnetic anomalies at the original drill targets and two additional targets."
About Canegrass Project:
The 4200 Ha project contains a highly prospective geological setting, where historical exploration drilling intersected anomalous Ni-Co-Cu mineralization at two locations within the property footprint. Airborne VTEM TM identified 14 geophysical anomalies in 2013. Historical drilling in 2014 at two of the identified targets (CG-02 and CG-039), intersected anomalous Ni-Co-Cu mineralization in 9 of 10 holes completed. Downhole EM surveys identified off-hole anomalies that have been confirmed by recent surface EM surveys completed earlier this year. The Company's initial drill program plans to target these off-hole anomalies at the CG-02 and CG-039 targets as well as testing strong, surface EM anomalies at targets VTEM 13-08 and VTEM 13-06 (Refer to Figure 1).
On August 7, 2018, the Company reported the results of surface rock chips collected at VTEM-08 during the cultural survey of the planned drill sites returned anomalous vanadium, titanium and iron values. The results fell within a broad, elongate, V2O5 surface anomaly defined by historical rock chip samples (Refer to Figure 2 for additional information and please refer to press release dated August 7th, 2018).
Figure 1: Canegrass Property – Regional Geology with 2013 VTEM ™ Anomalies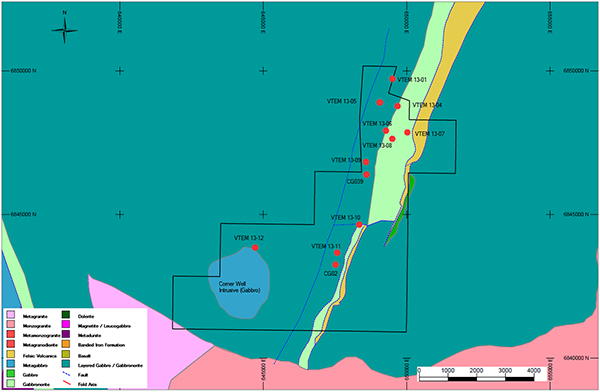 Figure 2: Canegrass Property – High Resolution Airborne Magnetics with Historical V2O5 Surface Rock Chips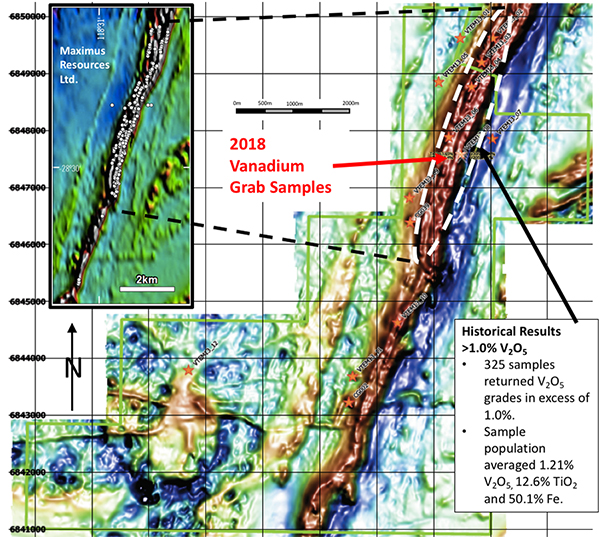 Details regarding the collection and analysis of the historical data are unknown at this time, other than samples were collected by Maximus Resources Ltd. in 2007. BlueBird notes that there is no guarantee that the historical results are representative and cannot guarantee that the Company will be able to duplicate the results with future sampling programs.
The technical content of this news release has been reviewed and approved Wes Hanson, P.Geo., a director of the Company and a Qualified Person pursuant to National Instrument 43-101. The qualified person has not yet visited the Canegrass Project, and therefore has not yet verified the data disclosed, including sampling, analytical, and test data underlying the information or opinions contained in the written disclosure.
About BlueBird Battery Metals
BlueBird Battery Metals (TSXV: BATT; US: BBBMF) is a Canadian publicly listed company focused on the global exploration and development of strategic battery metals projects, primarily cobalt, and nickel. BlueBird's goal is to pursue a business model that offers direct and long-term leverage to the price appreciation in cobalt, nickel and manganese, three principal materials in EV batteries. The Company plans to become a leader in the battery metals sector, as cobalt is currently in a global supply deficit, has a vulnerable supply chain, and is part of an emerging sector with extraordinary potential. BlueBird is currently advancing a portfolio of battery metals focused assets in in Western Australia, New South Wales, Australia, and in the Yukon, Canada, and reviewing new acquisition opportunities to add to the Company's project portfolio.
On Behalf of the Board of BlueBird Battery Metals Inc.
Peter A. Ball
Chairman and CEO
For more information, please contact 1-855-584-0160 or [email protected].
This news release may contain or refer to forward-looking information based on current expectations, including, but not limited to the Company exploring the Canegrass Ni-Co-Cu Property, the Batt Co-Cu Property and the impact on the Company of these events, including the effect on the share prices. Forward-looking information is subject to significant risks and uncertainties, as actual results may differ materially from forecasted results. Forward-looking information is provided as of the date hereof and we assume no responsibility to update or revise such information to reflect new events or circumstances.
Neither TSX Venture Exchange, the Toronto Stock Exchange nor their Regulation Services Provider (as that term is defined in the policies of the TSX Venture Exchange) accepts responsibility for the adequacy or accuracy of this release.