BlueBird Battery Metals to Acquire Ashburton Cobalt Project in Prospective Talga Fault Zone and Increases Australian Cobalt Portfolio to 518 km2
Vancouver, British Columbia, June 12, 2018 – BlueBird Battery Metals Inc. (TSXV: BATT; US:BBBMF) (the "Company" or "BlueBird") is pleased to announce that it has entered into a binding letter of intent ("LOI") to acquire 100% of the rights, title and interest in the granted exploration licences of the Ashburton Cobalt Project ("Ashburton"), located 100 km southwest of Paraburdoo, Western Australia (Refer to Figure 1), from Peter Romeo Gianni (the "Vendor").
"We are excited to add another Co-Mn project to our portfolio in Western Australia that not only delivers well above industry standard Co grades, but has the potential to yield simpler metallurgy, noting the cobalt is hosted by manganese. Another key reason we selected the Ashburton, other than the style and grade of deposit, is the Western Australia location, which is known globally as where mining projects can be fast tracked to production, and dramatically quicker than North America. Mineral projects are significantly more valuable the sooner the product reaches the end user or market," commented Alf Stewart, President of BlueBird.
Highlights of Ashburton Cobalt Project:
The 189 km2 tenement package increases BlueBird's portfolio of cobalt focused projects in Western Australia to 231 km2, and its total portfolio in Australia to 518 km2.
Tenement controls more than 30 km of the Talga Fault Zone ("TFZ"), a major, northwest trending litho-structural contact zone.
Historical reconnaissance exploration results (surface rock chip samples) indicate anomalous cobalt grades ranging from trace to 0.311%.
References above and in Figure 2/3 below and to other companies' results, is for information purposes only. The selected samples are not necessarily representative of mineralization at Ashburton and there are no assurances the Company will receive similar results.
"Historical exploration at the Ashburton Cobalt Project indicates an opportunity for the discovery of a near surface cobalt deposit, will play a key part in establishing BlueBird as a leader in the exploration and advancement of cobalt project," commented Peter A. Ball, Chairman and CEO of BlueBird. "With four acquisitions in three months focused on building a portfolio of quality cobalt projects, we are clearly providing a platform to build shareholder value for our shareholders. We continue to review other battery metal projects to add to our portfolio and look forward to delivering value through focused aggressive exploration programs."
Ashburton Tenement Overview
The Ashburton Cobalt Project is comprised of three tenements, Capricorn, Jessice Bore and Edmund, all located along the surface trace of the TFZ (Refer to Figure 2). The most advanced of the three tenements, Jessica Bore, highlights multiple surface rock chip samples returning cobalt grades greater than 0.1% Co (Refer to Figure 3). There are no assurances the Company will receive similar results to the adjacent property.
Fig 1: Ashburton Project Location Map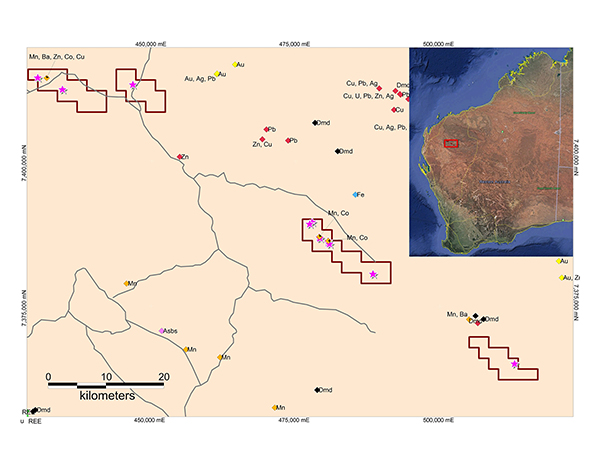 Project Geology
The Ashburton Cobalt Project covers the north-western extent of the Edmund Basin, a 4 km thick suequence of siliciclastic and carbonate sedimentary rocks lying unconformably on rocks of the Ashburton Basin, represented by the Wyloo Group, a 12 km thick SE trending sequence of low-grade meta-sediments and meta-volcanic rocks. The Project is underlain by rocks of the Capricorn Orogen, a major tectonic zone between the Archaen Yilgarn and Pilbara Cratons. The Capricorn Orogeny deformed and metamorphosed the Ashburton Basin producing the dominant NW-SE fold axis, shear and foliation trends and low grade metamorphism.
The dominant structural feature is the Talga Fault Zone ("TFZ") a major NW-SE trending fault zone interpreted to represent a suture zone between the Ashburton and Gascoyne Complex, a sequence of metasedimentary and meta-igneous rocks extensively intruded by large volumes of granite, forming the basement for the Edmund Basin sedimentation.
Previous exploration of the tenements focused on extensive manganese mineralization, been traced for over 60 km along the TFZ. Cobalt and Manganese mineralization is associated with a dolomitic unit parallel to the TFZ. Surface rock chip samples have returned anomalous cobalt results, ranging from trace to 0.31% (Refer to Table 1). There are no assurances the Company will receive similar results.
Fig 2: Rock Chip Sample Results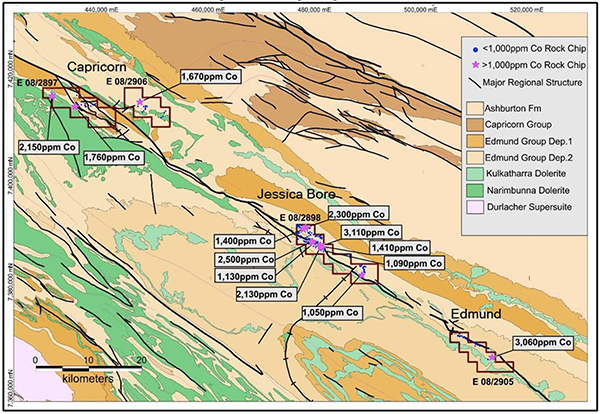 Fig 3: Jessica Bore Prospect Cobalt Rock Chip Results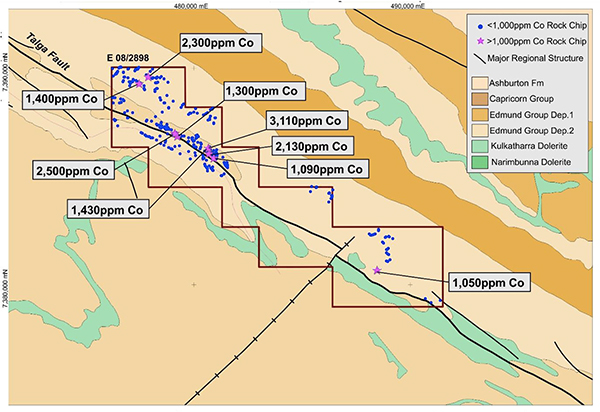 Table 1 – Selected Surface Rock Chip Results – Ashburton Project


Table 1 includes selected results from historical surface rock chip sampling of the Ashburton Project. There are no assurances that the Company will be able to duplicate these results.
Please visit the website www.bluebirdbatterymetals.com for additional information, maps, sections, and assay tables related to the Ashburton Cobalt Project.
The technical content of this news release has been reviewed and approved Wes Hanson, P.Geo., a director of the Company and a Qualified Person pursuant to National Instrument 43-101. The qualified person has not yet visited the Ashburton Project, and therefore has not yet verified the data disclosed, including sampling, analytical, and test data underlying the information or opinions contained in the written disclosure.
LOI Terms
Under the terms of the LOI, which will be formalized by a definitive agreement among the parties, the Company will purchase 100% of Ashburton by paying the Vendor CAD$25,000 and issuing to the Vendor, over a two year period, common shares valued at CAD$1,500,000. This transaction is subject to the acceptance of the TSX Venture Exchange.
The Company also announces that its press release dated June 7, 2018 incorrectly stated that COMVERJ Pty Ltd was a finder. The correct finder is Lexcon Pty Ltd. No finder's fee is payable in respect of the Ashburton transaction.
About BlueBird Battery Metals
BlueBird Battery Metals (TSXV: BATT; US: BBBMF) is a Canadian publicly listed company focused on the global exploration and development of strategic battery metals projects, primarily cobalt and nickel. BlueBird's goal is to pursue a business model that offers direct and long-term leverage to the price appreciation in nickel and cobalt, two principal materials in EV batteries. The Company plans to become a leader in the battery metals sector, as cobalt is currently in a global supply deficit, has a vulnerable supply chain, and is part of an emerging sector with extraordinary potential. BlueBird is advancing its portfolio of battery metals focused assets in Western Australia and New South Wales, Australia, and in the Yukon, Canada, and is currently reviewing new acquisition opportunities to add to the Company's project portfolio.
On Behalf of the Board of BlueBird Battery Metals Inc.
Peter A. Ball
Chairman and CEO
For more information, please contact 1-855-584-0160 or [email protected].
This news release may contain or refer to forward-looking information based on current expectations, including, but not limited to the Company acquiring an interest in properties controlled by Mr. Gianni, exploring its properties in Australia or the Yukon, and the impact on the Company of these events, including the effect on the share prices. Forward-looking information is subject to significant risks and uncertainties, as actual results may differ materially from forecasted results. Forward-looking information is provided as of the date hereof and we assume no responsibility to update or revise such information to reflect new events or circumstances.
Neither TSX Venture Exchange, the Toronto Stock Exchange nor their Regulation Services Provider (as that term is defined in the policies of the TSX Venture Exchange) accepts responsibility for the adequacy or accuracy of this release.