BlueBird Intersects 1.33% Ni, 1.26% Cu and 0.10% Co over 4.90 metres at Canegrass, Extends Strike Length of Ni-Cu-Co Mineralization to 4.5 km
Vancouver, British Columbia, November 29, 2018 – BlueBird Battery Metals Inc. (TSXV: BATT; US: BBBMF) (the "Company" or "BlueBird") is pleased to announce results from the first five diamond drillholes from the Company's Phase One exploration program at its 100%-controlled Canegrass Project in Western Australia.
Highlights and Observations:
All holes during the Phase One drill program were targeting VTEM anomalies. The diamond drill campaign consisted of 1,380 metres and all holes intersected Ni, Cu, and Co grades extending the mineralization 4,500 metres along the magnetite-rich gabbro-norite trend (Figure 1).
BBDD001 targeted VTEM-06 and intersected 1.20% Ni, 0.41% Cu and 0.10 % Co over 1.70 metres within a magnetite-rich gabbro-norite with two zones of massive to semi-massive sulphides. Mineralization consists of pyrrhotite, pentlandite, pyrite and minor chalcopyrite within a broader zone of disseminated sulphides. The mineralization occurs within 100 m of surface.
BBDD002 targeted VTEM anomaly CG-039 which is approximately 2,500 metres south of VTEM-06 and intersected 1.33% Ni, 1.26% Cu, 0.10% Co over 4.90 metres within a magnetite-rich gabbro-norite. Mineralization is within a large massive to semi-massive sulphide zone which includes pyrrhotite, pentlandite, pyrite, and chalcopyrite (Figure 2).
BBDD003 to BBDD005 were designed to verify historical, anomalous Ni-Cu-Co mineralization towards the southern edge of the claim at VTEM target CG-02. The 3 diamond drillholes intersected multiple thin mineralized pyroxenite zones containing disseminated to semi-massive lenses of chalcopyrite, pyrite, magnetite, and pentlandite.
Table 1: Significant Assay Results BBDD001 to BBDD005
| | | | | | | | |
| --- | --- | --- | --- | --- | --- | --- | --- |
| Hole ID | From (m) | To (m) | Interval (m) | Ni (%) | Cu (%) | Co (%) | Target |
| BBDD001 | 142.96 | 144.66 | 1.70 | 1.20 | 0.41 | 0.10 | VTEM-06 |
| Including | 144.09 | 144.66 | 0.57 | 3.07 | 0.62 | 0.24 | |
| BBDD002 | 243.15 | 257.40 | 14.25 | 0.69 | 0.82 | 0.05 | CG-039 |
| Including | 250.80 | 255.70 | 4.90 | 1.33 | 1.26 | 0.10 | |
| BBDD003 | 225.80 | 227.00 | 1.20 | 0.48 | 0.98 | 0.06 | CG-02 |
| BBDD004 | 275.00 | 279.00 | 4.00 | 0.25 | 0.41 | 0.05 | CG-02 |
| Including | 277.85 | 279.00 | 1.15 | 0.37 | 0.70 | 0.08 | |
| BBDD005 | 255.70 | 263.00 | 7.30 | 0.14 | 0.31 | 0.02 | CG-02 |
| Including | 256.75 | 257.15 | 0.40 | 0.50 | 1.51 | 0.06 | |
The intervals noted in the above Table are measured downhole and are not true width. There is insufficient information at this time to determine the true width of the mineralized zone.
Platinum and palladium assay results are pending.
Gary Nassif, President of Bluebird, comments: "The latest drill results continue to demonstrate the potential for a significant magmatic nickel copper sulphide discovery at Canegrass. We have now established anomalous, potentially economic Ni-Cu-Co mineralization over a 4,500-metre strike length and our latest drilling suggests that the mineralization extends continuously from surface to depths greater than 250 metres. Furthermore, results from the current drill program suggest that the tenor of the Ni-Cu-Co mineralization is improving at depth. Our Phase One program is now complete and we are currently evaluating the results and prioritizing follow-up targets for subsequent drill programs."
Figure 1: Canegrass Property – Regional Geology with VTEM Anomalies and Significant Drill results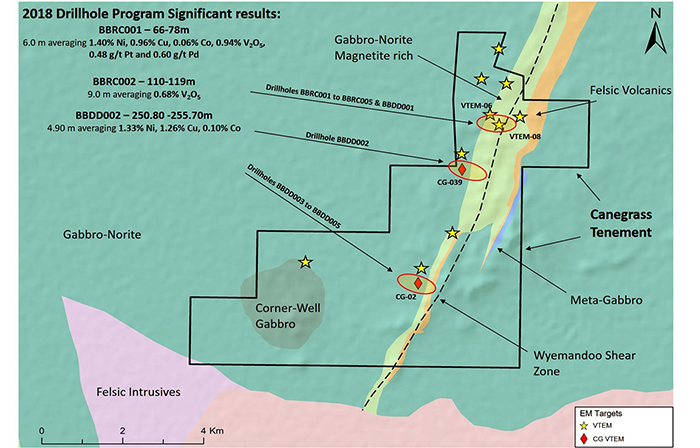 Figure 2: Canegrass Property – CG039 Target Drill Section looking North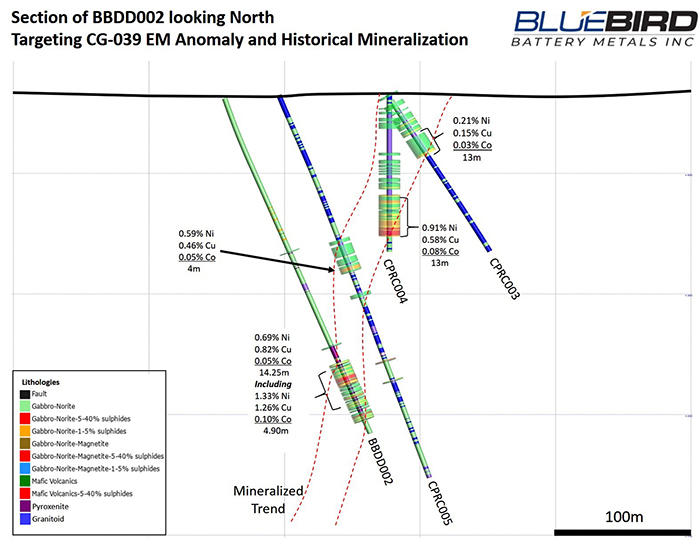 About Canegrass Project:
The 4,200-ha project is located within the Windimurra Complex, an ultramafic-mafic layered intrusion that is highly prospective for Ni-Cu-Co and vanadium mineralization in the Mt. Magnet district of Western Australia. Historical exploration drilling intersected anomalous Ni-Cu-Co mineralization at two locations within the property footprint and Airborne VTEMTM identified 14 geophysical anomalies in 2013. Drilling in 2014 at two of the identified targets (CG-02 and CG-039) intersected anomalous Ni-Cu-Co mineralization in 9 of 10 holes. Downhole electromagnetic ("EM") surveys identified off-hole anomalies that have been confirmed by recent surface EM surveys completed earlier this year. The Company's 2018 Phase One drill program targeted off-hole anomalies at CG-02 and CG-039 and surface EM anomalies at targets VTEM-08 and VTEM-06. In addition, surface rock chip sampling of the magnetite-rich gabbro-norites in the northern half of the property has identified a 4.5-km long anomalous zone of vanadium mineralization with over 300 samples returning grades in excess of 1.0% V2O5.
QA/QC
BlueBird's exploration programs are supervised by Qualified Persons responsible and accountable for the planning, execution and interpretation of all exploration activity. BlueBird has quality assurance and control systems (QA/QC) in place to ensure that NI 43-101 and industry best practices are followed for drilling, sampling, analysis and reporting. Please refer to the QA/QC section of Bluebird's press release dated October 15, 2018 for details on the current protocols in place.
The technical content of this news release has been reviewed and approved by Wesley Hanson, P.Geo., a director of the Company and a Qualified Person pursuant to National Instrument 43-101.
About BlueBird Battery Metals
BlueBird Battery Metals (TSXV: BATT; US: BBBMF) is a Canadian publicly listed company focused on the exploration and development of strategic battery metals projects, primarily cobalt and nickel. BlueBird's goal is to pursue a business model that offers direct and long-term leverage to the price appreciation in nickel and cobalt, two principal materials in EV batteries. The Company plans to become a leader in the battery metals sector, as cobalt is currently in a global supply deficit, has a vulnerable supply chain, and is part of an emerging sector with extraordinary potential. BlueBird is advancing its portfolio of battery metals-focused assets in Western Australia and is currently reviewing new acquisition opportunities to add to the Company's project portfolio.
On Behalf of the Board of BlueBird Battery Metals Inc.
Nav Dhaliwal
Chief Executive Officer
For more information, please contact 1-855-584-0160 or [email protected].
This news release may contain or refer to forward-looking information based on current expectations, including, but not limited to the Company achieving success in exploring its properties and the impact on the Company of these events, including the effect on its share price. Forward-looking information is subject to significant risks and uncertainties, as actual results may differ materially from forecasted results. Forward-looking information is provided as of the date hereof and we assume no responsibility to update or revise such information to reflect new events or circumstances. References to other issuers with nearby projects is for information purposes only and there are no assurances the Company will achieve similar results.
Neither TSX Venture Exchange, the Toronto Stock Exchange nor their Regulation Services Provider (as that term is defined in the policies of the TSX Venture Exchange) accepts responsibility for the adequacy or accuracy of this release.