BlueBird Intersects 8.0 Metres of 1.03% Vanadium Mineralization at Canegrass Project, Western Australia
Vancouver, British Columbia, October 23, 2018 – BlueBird Battery Metals Inc. (TSXV: BATT; US: BBBMF) (the "Company" or "BlueBird") is pleased to announce the discovery of new high-grade vanadium mineralization from the Phase One exploration program at the Company's Canegrass Project in Western Australia.
Highlights From Drilling Results:
Results demonstrate that vanadium mineralization extends from surface to down hole depths of >100m and >300 metres in lateral extents
Considerable strike extent of 4,500 m defined from drilling, rock chip sampling and magnetic surveys strongly supports potential of defining near surface vanadium resource
Table 1 – Assay Results BBRC001 – BBRC005
| | | | | |
| --- | --- | --- | --- | --- |
| Hole ID | From | To | Interval (1) | V2O5 |
| | (m) | (m) | (m) | (%) |
| BBRC001 | 0.00 | 102.00 | 102.00 | 0.36 |
| including | 35.00 | 55.00 | 20.00 | 0.49 |
| and | 64.00 | 81.00 | 17.00 | 0.78 |
| including | 72.00 | 80.00 | 8.00 | 1.03 |
| BBRC002 | 0.00 | 121.00 | 121.00 | 0.31 |
| including | 38.00 | 61.00 | 23.00 | 0.46 |
| and | 100.00 | 119.00 | 19.00 | 0.53 |
| including | 110.00 | 119.00 | 9.00 | 0.68 |
| BBRC003 | 0.00 | 85.00 | 85.00 | 0.16 |
| including | 32.00 | 34.00 | 2.00 | 0.48 |
| BBRC004 | 25.00 | 78.00 | 53.00 | 0.23 |
| including | 39.00 | 42.00 | 3.00 | 0.39 |
| and | 62.00 | 63.00 | 1.00 | 0.63 |
| BBRC005 | 8.00 | 63.00 | 55.00 | 0.21 |
| including | 30.00 | 38.00 | 8.00 | 0.58 |
| including | 35.00 | 38.00 | 3.00 | 0.88 |
(1)The intervals noted in the above Table are measured downhole and are not true width. There is insufficient information at this time to determine the true width of the mineralized zone.
Results for five reverse circulation holes drilled near VTEM-08 (Ref. Figure 1) have been received. The holes were drilled on one section and spaced 80 metres between holes (Ref. Figure 2). The initial hole on the section BBRC001 targeted the VTEM-08 anomaly to evaluate for potential magmatic nickel, copper sulphide mineralization. Results were reported on October 15, 2018. The remaining four holes on the section targeted a broad, elongate, coincident rock geochemical surface anomaly and magnetic anomaly measuring 4,500 metres by 500 metres. Historical sampling by Maximus Resources Ltd. ("Maximus") returned over 325 samples exceeding 1.0% V2O5 (not verified by BlueBird). Drilling has confirmed the depth potential of the minerlization to extend to >100m. Results are summarized in Table 1.
Figure 1 - Canegrass Property – High Resolution Airborne Magnetics with Historical V2O5 Surface Rock Chips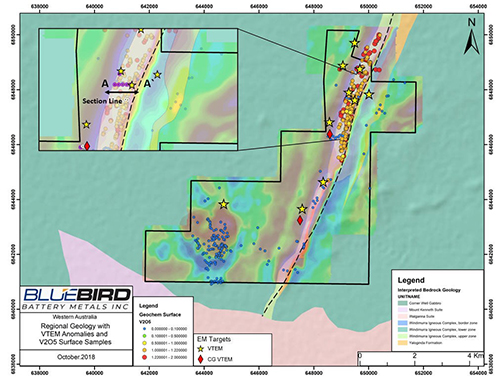 Figure 2: Canegrass Property – VTEM-08 Drill Section Looking North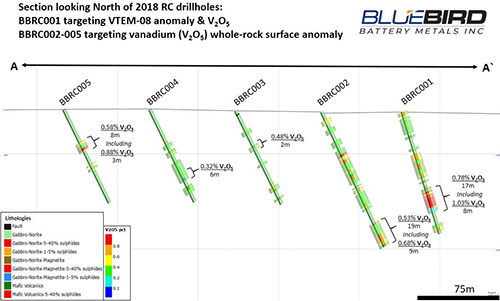 Gary Nassif, President of Bluebird, comments: "We are very pleased with the initial drill results from our vanadium target at Canegrass. The results suggest that there is potential to define a substantial, near-surface vanadium resource. Vanadium prices have seen strong upward momentum in the past year and long term fundamentals suggest there is potential for continued price appreciation, a result of vanadium's increasing use in battery technology. With over 4,500 metres of defined strike length along the same trend hosting our recent Ni-Cu-Co discoveries, we believe there are significant synergies that we can exploit while exploring the trend, reducing our exploration costs and increasing our potential resource growth as we can evaluate the magmatic nickel copper sulphide and vanadium potential simultaneously."
The surface vanadium anomaly parallels the Wyemandoo Shear and the Sheperds Discordant Zone ("SDZ"), both of which are major regional structural features transecting the Canegrass Project area. Historical sampling by Maximus returned 325 samples greater than 1.0% V2O5, averaging 1.21% V2O5.
Holes BBRC001 through BBRC005 test a 320-metre width across the surface anomaly (Ref. Figures 1 and 2). The results indicate that the V2O5 mineralization is extensive, extending across the entire drill section from surface to depths in excess of 100 metres. V2O5 grades appear to decrease moving from east to west, away from the Wyemandoo Shear / SDZ, with the highest grades and longest intervals returned in holes BBRC001 and BBRC002 (Ref. Table 1). The higher-grade mineralization is directly related to increased magnetite content in the host rocks.
Directly to the north of Bluebird's Canegrass Property is the fully permitted and constructed Windimurra Vanadium Mine owned by Atlantic Vanadium Pty Ltd ("Atlantic"). Atlantic acquired the mine in 2016 with the intention of re-establishing production. The mine complex is reported to have a historical capital investments of $500 million AUD. Vanadium mineralization at Atlantic is coincident with the SDZ and has been traced for over 27 km to the northern boundary of BlueBird's Canegrass tenements. The resource at Atlantic is 235 M tonnes @ 0.49% V2O5 MI & I (combined measured and indicated and inferred) and has disclosed vanadium grades in outcrop of up to 0.8% V2O5 along the southernmost expression of the SDZ, similar to the grades identified in surface outcrop sampling reported by Maximus.
A recent high resolution airborne magnetic survey completed by BlueBird on the Canegrass tenements has traced the magnetic trend associated with the SDZ for a further 9.4 km North-South across the Canegrass property. (Ref. Figure 1). The magnetic trend dominates the airborne magnetic response and the Company believes it is an excellent tool to assist in drill targeting.
About Vanadium
Vanadium is primarily used as an additive in steelmaking to increase the hardness of steel. Globally, 85% of vanadium production is used in steel making. Vanadium is seeing increased use in battery production with many experts predicting that Vanadium Flow batteries are the best solution to store electricity in conjunction with alternative energy sources such as wind and solar power. Exponential increase in vanadium price this year combined with increasing utility of vanadium as energy storage medium provides compelling investment thesis.
About Canegrass Project
The 4,200 Ha project is located within a highly prospective geological setting, where historical exploration drilling intersected anomalous Ni-Co-Cu mineralization at two locations within the property footprint. Airborne VTEM TM identified 14 geophysical anomalies in 2013. Historical drilling in 2014 at two of the identified targets (CG-02 and CG-039) intersected anomalous Ni?Co?Cu mineralization in 9 of 10 holes. Downhole electromagnetic ("EM") surveys identified off-hole anomalies that have been confirmed by recent surface EM surveys completed earlier this year. The Company's 2018 Phase One drill program targeted off-hole anomalies at CG-02 and CG-039 targets and surface EM anomalies at targets VTEM-08 and VTEM-06. The 4.5 km magnetite rich-gabbro-norite zone has yieled historical surface rock chip samples that returned anomalous V2O5 grades in excess of 1.0%. The program has been extremely successful to date confirming both Ni-Cu-Co and V2O5 mineralization
QA/QC
BlueBird's exploration programs are supervised by Qualified Persons responsible and accountable for the planning, execution and interpretation of all exploration activity. BlueBird has quality assurance and control systems (QA/QC) in place to ensure that NI 43-101 and industry best practices are followed for drilling, sampling, analysis and reporting. Please refer to the QA/QC section of Bluebird's press release dated October 15, 2018 for details on the current protocols in place.
The technical content of this news release has been reviewed and approved by Wes Hanson, P.Geo., a director of the Company and a Qualified Person pursuant to National Instrument 43-101.
The Company is also pleased to that, subject to TSX Venture Exchange acceptance, it has retained Venture Liquidity Providers Inc. ("VLP") to initiate its market-making service to provide assistance in maintaining an orderly trading market for the common shares of the Company.
The market-making service will be undertaken by VLP through registered broker, W.D. Latimer Co. Ltd., in compliance with the policies of the TSX Venture Exchange and other applicable laws. For its services, the Company has agreed to pay VLP $5,000 per month for a period of 12 months. The agreement may be terminated at any time by the Company or VLP. The Company and VLP act at arm's length, and VLP has no present interest, directly or indirectly, in the Company or its securities. The finances and the shares required for the market-making service are provided by W.D. Latimer. The fee paid by the Company to VLP is for services only.
VLP is a specialized consulting firm based in Toronto and provides a variety of services focused on TSX Venture Exchange listed issuers.
About BlueBird Battery Metals
BlueBird Battery Metals (TSXV: BATT; US: BBBMF) is a Canadian publicly listed company focused on the exploration and development of strategic battery metals projects, primarily cobalt and nickel. BlueBird's goal is to pursue a business model that offers direct and long-term leverage to the price appreciation in nickel and cobalt, two principal materials in EV batteries. The Company plans to become a leader in the battery metals sector, as cobalt is currently in a global supply deficit, has a vulnerable supply chain, and is part of an emerging sector with extraordinary potential. BlueBird is advancing its portfolio of battery metals-focused assets in Western Australia and is currently reviewing new acquisition opportunities to add to the Company's project portfolio.
On Behalf of the Board of BlueBird Battery Metals Inc.
Nav Dhaliwal
CEO
For more information, please contact 1-855-584-0160 or [email protected].
This news release may contain or refer to forward-looking information based on current expectations, including, but not limited to the Company achieving success in exploring its properties and the impact on the Company of these events, including the effect on its share price. Forward-looking information is subject to significant risks and uncertainties, as actual results may differ materially from forecasted results. Forward-looking information is provided as of the date hereof and we assume no responsibility to update or revise such information to reflect new events or circumstances. References to other issuers with nearby projects is for information purposes only and there are no assurances the Company will achieve similar results.
Neither TSX Venture Exchange, the Toronto Stock Exchange nor their Regulation Services Provider (as that term is defined in the policies of the TSX Venture Exchange) accepts responsibility for the adequacy or accuracy of this release.